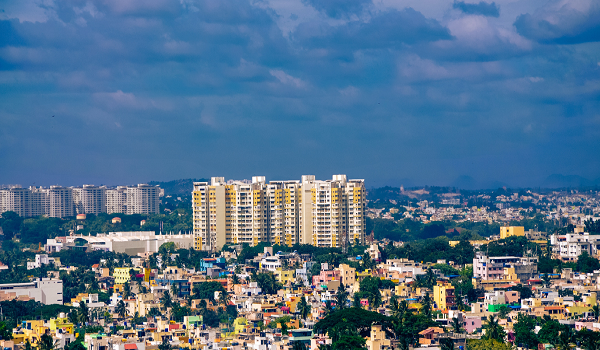 North Bangalore is a significant zone of Bangalore, which is gaining heights as a business corridor because of its prime residential market, proximity to Kempegowda International Airport, and excellent social infrastructure.
The capital and biggest city of Karnataka is Bangalore, which is also known as Bengaluru. Bangalore is India's third most popular city and fifth most populous urban area. An area around the city has more than 8 million people, and the city has about 11 million people. Bangalore is in southern India, on the Deccan Plateau, about 900 meters above sea level. The weather is warm all year.
Bangalore home prices have been going up for a decade now, but this is due to many different reasons. Bangalore is home to the offices of many IT companies. It is the second-fastest growing city in India. There were 7,700 millionaires and eight billionaires in Bangalore in 2017. Together, they were worth 320 billion dollars.
North Bangalore: Building up infrastructure
Building the Bangalore Airport in Hebbal sped up the growth of the North zone. HNIs and NRIs started moving there, and Hebbal grew faster, adding mansions and apartments with lots of space. The speed of growth increased when PSUs, aerospace, defense, and IT businesses opened offices.
The Outer Ring Road and the Tumkur Road link North Bangalore to other parts of the city. They connect people looking for work to job centers like Manyata Tech Park, Kirloskar Tech Park, etc.
The social infrastructure in North Bangalore is well-developed, with well-known hospitals and schools. Some of the healthcare options in the area are Fortis, Columbia, and Omega Multispecialty. Some good schools are Orchids International, VIBGYOR, and Kendriya Vidyalaya. There are also well-known stores in this area, like Elements and Orion. It's a great place to go on a weekend trip with the family or a night out with friends.
New developments coming up in North Bangalore:
There may be a 950-acre SEZ and a 250-acre special economic zone.
There will be a 413-acre business area in Devanahalli, a great spot in North Bangalore.
Still needs to be finished. Namma Metro's Pink Line will connect Gottigere in the south to Nagawara in the north.
As planned, the Namma Metro Blue Line will go through Bagalur, Yelahanka, Jakkur, Hebbal, and Nagawara.
The Suburban Railway will link several neighborhoods in North Bangalore.
The Peripheral Ring Road will link Hosur Road to Tumkur Road through Sarjapur Road, NH 75, Bagalur Road, and NH 44.
Building up IT in North Bangalore:
North Bangalore is the area in Bangalore that is growing the fastest. Developers are building many IT parks and business spaces, which is good news for people who want to spend. North Bangalore appeals to people who wish to invest in office or home space for multiple reasons.
Business Park in Devanahalli:
The business park covers 413 acres and is ready to bring over 2 billion dollars in business investments.
The Bangalore Aerospace SEZ is:
There are a lot of business events in Bangalore Aerospace SEZ, home to 56 well-known companies.
Centre for International Conventions:
This project will be built on 35 acres of land close to Bangalore International Airport to get more business going.
Disney land theme park:
Built on a PPP plan, this Disney-style theme will cover 1000 acres of land and will likely attract more tourists.
The state government wants to speed up growth in Bangalore by pushing for more and more changes. Besides these projects, There are many great places to buy land in North Bangalore. Join the real estate change! Being close to the airport, easy access to transportation, tech parks, and ongoing real estate growth make North Bangalore a good place to invest in real estate.
Conclusion:
North Bangalore is easy to get to other places because the public transport is effective. Many people who want to buy or rent a home come to North Bangalore because the real estate is cheap. If you're not an IT worker, North Bangalore may be better for you in the long run because it's closer to the city's heart. The areas in Bangalore's north are significant and have their unique traits.
Provident Housing prelaunch apartment is Provident Deansgate.