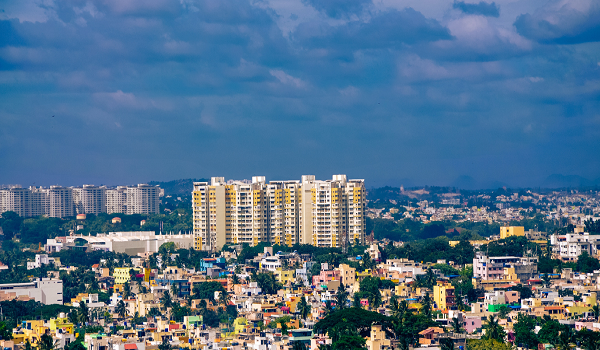 The Provident Deansgate North Bangalore is a premium villa residential project by Provident Housing Limited on IVC Main Road, North Bangalore. The project covers an area of 16 acres and offers luxurious Villas and row houses. People who are quite picky about their residences will love this stunning project with its Manchester town theme. There are only 288 luxurious units, so each one feels unique and private. These lavish and lovely villas offered with an elevation of (G+2) ensure having plenty of room for the things you need today.
There are over 30+ great amenities at Provident Deansgate North Bangalore that will make your life easier and better. This neighborhood also has a world-class clubhouse that changes what it means to live in style in Bangalore. The size of villas ranges from 1700 to 2300 square feet, so every family can find something they like. It offers an elegant lifestyle. Provident Housing Limited ensures that you do not miss anything because they want to improve your life. Get this great place to live right away. It has the best mix of comfort and ease.
Provident Housing Limited is a well-known Indian real estate company and many people's trust. They aim to make elegant homes that people can buy. Many people know that the company is trustworthy and always puts the wants of its customers first. Numerous people can afford to live there because they build homes for all budgets. Provident Housing Limited projects help families find places to live by giving them new ideas and comforts from the present. They've done good work over the years, so people who want to buy a house and save money trust them.
Location
Provident Deansgate North Bangalore is in a quiet part of IVC Road. It is a popular spot to buy a home because it's close to the city's IT hub. Its pin code is 562110. People who live in this area can quickly and easily get to other places by car, train, or plane. Strong roads in the area make it easy to get to all parts of the city.
In Bangalore, people choose to live on IVC Road because it has a lively community and is close to big IT hubs with lots of jobs. It's best for the real estate market that numerous people move here for work every year. There are many ways to spend money in this area because so many builders are building homes there.
Citizens in this neighborhood should be happy because Provident Deansgate is in a great spot. Roads are great, and there are train lines that connect to the main parts of the city. It's easy to get to job places. This part of town has lots of fun things to do.
The project's location map is helpful because it shows shops, schools, jobs, bus stops, and metro stations that are close by. It helps people do the right thing when they want to spend money. Provident Deansgate is getting even better as more high-end homes are on the way. It will be an even better place to live or do business. Because Provident Deansgate North Bangalore is in an area that is growing quickly, it will appreciate over time.
Conclusion
In conclusion, Provident Deansgate North Bangalore is a great place to live. Near IT hubs, easy access to public transportation, and a busy neighborhood make it a great place to live. Because of this, it's a great buy. With lots of features and room to expand, it will be a great spot to live and spend time in the future.