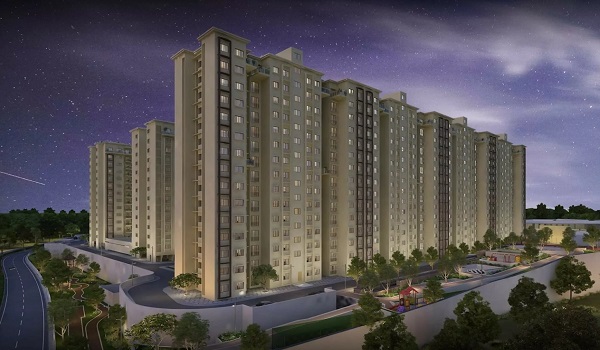 Provident Park Square is an elite residential apartment project on Kanakapura Road. Provident Housing Limited developed the project. The residential enclave features the best living segment. It offers spacious flats with lavish features.
Provident Park Square master plan spans across 20 acres of land. The lush green terrain makes the township unique and elegant. It comprises 10 blocks with 14 floors each. It contains 1102 total units in the project. The presence of parks and tree-lined avenues add to the natural charm.
Park Square floor plan features 1, 2, and 3 BHK flats. The layout of 1 BHK is 525 sq. ft. The 2 BHK Comfort flat size is 684 sq. Ft. The size of 2 BHK Grand is 900 sq. ft. The 3 BHK Comfort layout is 1106 sq. ft. The size of the 3 BHK Grand flat is 1300 sq. Ft. It creates a home that caters to the aspirations of the homebuyers.
The builder ensures a quality stay experience. It is a testament to luxurious and endurable living. It combines eco-friendly practices and features. It includes rainwater harvesting, waste control systems, and more. The energy-efficient lighting reduces its natural impact.
Provident Park Square location has good connectivity and lies on Kanakapura Road. It is close to existing and upcoming facilities and societies.
Park Square's amenities include a clubhouse, pool, gym, and play area. It has a sports court, garden, and party hall. The project finds something for everyone within the premises. It caters to all age groups and choices.
Provident Group is known for its loyalty to excellence. It has prestige for giving quality projects in the real estate market.
Provident Park Square Location Details - South Bangalore
Kanakapura Road is a developing road in the town. It is a link between the city center and the southern suburban areas. It connects to major roads like NICE Road and Outer Ring Road. This makes it essential for both locals and commuters.
The area has seen vast real estate growth. It has arisen as a prime place for residential projects. It offers options like flats, villas, and gated societies. This has attracted homebuyers and investors alike.
Provident Park Square is close to tech hubs like Electronic City and Bannerghatta Road. It is an ideal choice for IT experts seeking a shorter commute.
Famous schools and colleges are close to the township. Delhi Public School and The Valley School are nearby.
Leading hospitals, like Apollo and Fortis Hospital, are accessible. It ensures timely medical attention and services.
Residents can shop and dine at Vega City and Royal Meenakshi Mall. It delivers a wide range of retail and dining options.
Kanakapura Road and its vicinity offer cultural and recreational activities. It includes art galleries, events, and many more.
Provident Group projects focus on the safety and security of locals. Gated societies, CCTV, and well-planned infra are part of their growth.
The region enjoys a good transit network with public buses and auto access. It is well connected to the airport, located 50 km.
Provident Park Square's vicinity is brimming with interests and activities.
Art of Living International Center: It is located a short drive away. This wellness center offers courses and meditation events. It gives a tranquil aura to spiritual seekers.
Turahalli Forest: Nature lovers can explore the nearby Turahalli Forest. It is known for its hiking and biking tracks. It provides a serene escape into the nature.
Bannerghatta National Park: It's a heaven for wildlife fans. This park is home to a variety of animals and offers safaris. It has a butterfly park and a zoo for a day of adventure.
Innovative Film City: Locals can enjoy a day of fun at this massive film complex. It features themed attractions, rides, and live shows.
Art Galleries and Cultural Centers: The area around Kanakapura Road features many art galleries. It hosts shows, concerts, and cultural events.
Provident Housing prelaunch apartment is Provident Deansgate.