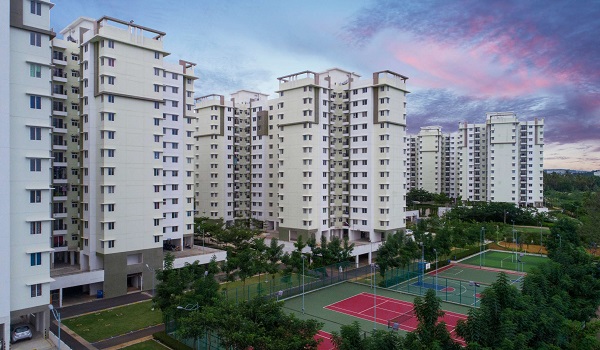 Provident Sundeck is a brand-new residential apartment project off Mysore Road. Provident Housing, a real estate developer in India, built the project. It is a ready-to-move housing society.
The residential enclave features the premium living segment. It offers spacious layouts with lavish features.
Provident Sundeck's master plan is sprawling over 60 acres of land. The lush greenery makes the property more unique. It comprises 29 high-rise towers with 12 floors each. It has 2784 units in total.
Sundeck floor plan features spacious 2 and 3 BHK flats. The size of 2 BHK flats is 883 sq. ft, costing 55 lacs. The layout of 3 BHK is 1082 sq. ft, costing 67.73 lacs. It creates a home that caters to the dreams of homebuyers. It hosts best-class units at affordable rates.
The builder assures a quality stay experience. The units are built to cater to homeowners' diverse needs and choices. It features modern and stylish designs. The township sets a perfect example for lavish living. It marries a contemporary stay with peaceful surroundings.
Provident Sundeck location has good connectivity and is located off Mysore Road. It is near to existing and upcoming societies and facilities. Sundeck amenities contain a clubhouse, gym, pool, and garden area. It has a sports court, party hall, jogging track, and more. The property has something for everyone on the campus. It promotes a healthy and active lifestyle in all age groups. Wi-Fi facilities are provided to all the flats in the project.
Provident Group aims to focus on safety and security standards. It provides 24#7 security services in the township. The CCTV, intercoms, and security guards are available for residents. It helps not to disturb the privacy of the locals.
Provident Sundeck Location Overview
It is a gem for those who are aiming for a premium stay. It is a mixture of comfort, luxury, and modern living. It is known for its top-class finishes, layouts, and ventilation. All the flats are Vastu Complaint. It contains eco-friendly practices and features.
Mysore Road is called State Highway 17. It is a significant arterial road in the southern part of the city. It is one of the most vital roadways in the state.
In recent times, the area has seen a rapid growth. The region has seen massive growth in the real estate market. It has been a prime locality for the locals to live. Many commercial projects have sprung up. It provides various options like flats, villas, and gated societies.
It has been a vital trade route between Bangalore and Mysore. It is known for its cultural and historical landmarks, such as Mysore Palace.
It is a well-developed four-lane highway, making it a transit route. It is a piece of the state highway road. It connects several towns and cities along the route.
Rajarajeshwari Nagar: It is located along Mysore Road. The area is home to many temples. It makes the area a spiritual and cultural milestone.
Global Village Tech Park: This tech park is the main IT hub on Mysore Road. It houses several IT firms, making an employment center. Whitefield, Manyata Tech Park, and Electronic City near the township.
Bangalore University: The campus lies on Mysore Road. It offers higher education chances.
NICE Road: It connects to the Nandi Infra Corridor Enterprise. It is a tolled expressway. It provides faster access to many parts of the city.
Sundeck is likely to be located in the strategic location of the town. It offers easy access to malls and retail centers. Popular malls include Pheonix Market City and Orion Mall.
The area has reputed clinics and medical centers. Well-known Hospitals include Apollo, Manipal, and Narayana Wealth. It provides locals with the best services and timely attention.
The project's proximity to the railway or metro station is nearby. The city's metro network is growing, and many areas are well-connected.
Provident Housing prelaunch apartment is Provident Deansgate.